Positivity and Sustainability in the post COVID Landscape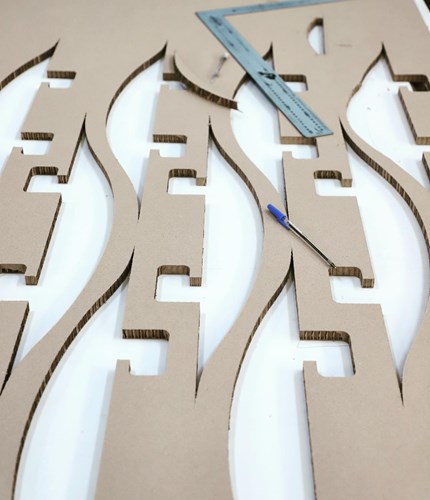 The global industry outlook at the beginning of 2020 was optimistic with many businesses expecting to see solid growth throughout this year. Resource Design counted themselves amongst those with positive outlooks having achieved industry recognition for their lightweight sustainable exhibition stand designs. Recent awards include winning the 2018 UFI Sustainability award, Travel Indaba Best Stand Award 2018 & 2019, WTM Best Responsible stand 2018 and 2019 and most recently Runner up in the IFES Innovation and Development award at Euroshop in Dusseldorf.
The arrival of COVID-19 massively impacted positive industry growth curves with almost everyone seeing a significant reduction in sales and workload. However, Resource Design directors, Gary van der Watt and Karen Robertson continue to have a positive outlook going forward – recognising that whilst Exhibitors and Event Organisers have immediate challenges of making events safe and instilling visitor confidence, they are also making a firm stand for sustainability in an attempt to combat the even greater looming crisis of climate change and natural resource depletion.
Gary van der Watt elaborates on the key feature of Resource Design's key focus of sustainability:
'Sustainability is inherently about collaboration and best practice for the greater good. Institutions such as the Global Destination Sustainability Index (www.gds-index.com) are leading sustainability benchmarking and improvement for meetings and events destinations around the world. This has seen forward thinking countries, cities, venues and companies take a stand and gear specifically for sustainable innovation.
 How does this impact on the COVID19 inertia? All the COVID Industry Frameworks including EIC, UFI, IFES & the SA Events Council are focused on the reopening and effective functioning of events. This requires strict rules and inevitably a higher cost. Far more than only a financial consideration this demands time.
More time for builds, logistics, access and egress. As such the biggest challenge for organisers and venues will be how to implement on time without sacrificing safety, quality or ROI. It will also require venues having space and time to sell.
By using global innovation-driven sustainable systems, such as those developed by Resource Design, events can be built faster, smarter and greener.'
In a Post COVID landscape, Resource Design anticipates layout and process changes within all exhibitions and event environments, such as wider aisles, staff limitations, reduced hospitality factors among others. As such small pre manufactured stands with innovative designs such as those provided by Resource Design will have numerous advantages over traditional methodologies. An additional advantage of this innovative approach is the negation of on-site dust factor with associated health and cleanliness implications.
Resource Design is proactively embracing these changes to create a comfortable and secure space for exhibitor and visitor whilst still providing a sustainable product to offer increased value to organisers and venues during these most challenging of times.
I7V are delighted to be working alongside such a resilient and pioneering brand who have embraced new ways of working and have managed to find the positives in an otherwise difficult market.
Learn more about Resource Design, part of the I7V family here.